Real Madrid, a very real and historic football club, have this week started selling the jerseys of a very fake player: Alex Hunter, star of FIFA's singleplayer story mode.
Having built up to it last year with a false start and some loan deals, this year's game finally has Hunter signing with one of the biggest teams in the world, the defending Champions League winners.
To coincide with this, Real Madrid's official club store, the place where you buy actual shirts featuring the names of the team's living, breathing superstars, have started selling Alex Hunter kit for real humans to wear on their back: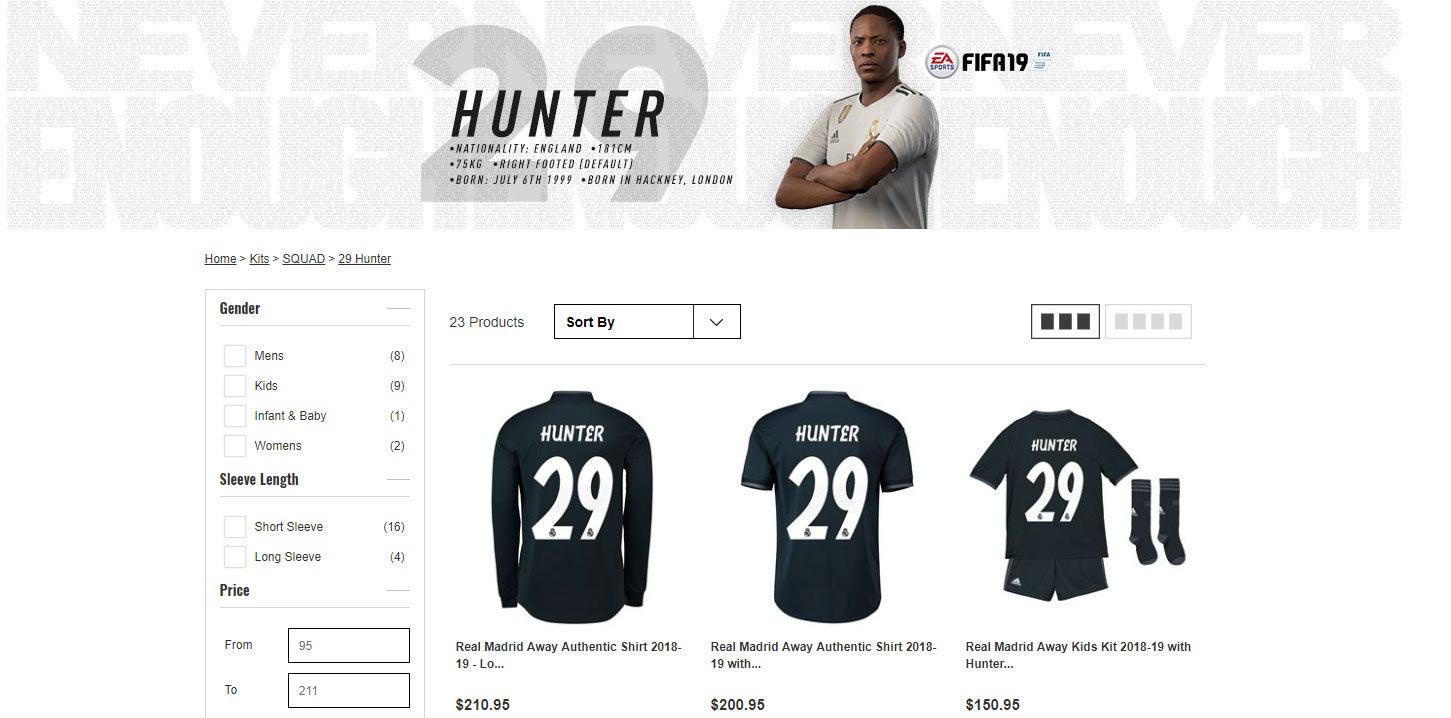 Seems harmless, right? Well, time for some context. Despite a tonne of recent Champions League success, its been a long time since Real mounted a serious title challenge in Spain, and the loss this summer of manager Zinedine Zidane and star man Ronaldo—who has moved to Juventus, in Italy—has fans sweating.
Their rivals in La Liga have been making signings to reinforce and strengthen their squads. Real? They've bought a goalkeeper and...well, are now trumpeting this Alex Hunter thing like an actual player contract.
¡Nuestro último fichaje en acción! ?? + 2⃣9⃣@adidasfootball | #TheJourney | #HereToCreate | #Predator pic.twitter.com/mr1nLCyFIS

— Real Madrid C.F. (@realmadrid) August 7, 2018
That says "our new signing in action".
I think it's fun. Then again, I bought a custom New Orleans Pelicans jersey for my NBA 2K player (Chandemonium, baby), so who am I to talk.
Real fans, on the other hand, are pissed off! They want real players, not digital ones.
— Picazo (@Carvacrack) August 7, 2018
— Cesar (@PlatinumCesar) August 7, 2018
— Give Asensio # 7 (@JD20_FanBoy) August 7, 2018
— Magia (@nancymadrisco) August 7, 2018
Guys, the Spanish transfer window is open until 31 August, there's plenty of time to put a proper football player—maybe an Englishman who won't live in his hotel the entire time—on the books.