By Rich Stanton, Laura Kate Dale and Kim Snaith
It was only last week, but it feels like much longer. That's one of E3's effects: there's so much compressed into such a relatively short space of time that, once it's over, you're left a little breathless and not quite sure what just happened. Here on Kotaku UK we covered every conference together, watched all the big announcements, and decided to look back on our favourite and not-so-favourite moments from this year's show.
---
Rich: In a way my happiest moment during the shows wasn't to do with the game involved, Just Dance 2019, but the way it opened Ubisoft's conference and the context of it all. For several years now Ubisoft has been the subject of a hostile takeover attempt from Vivendi, and after stiff resistance the French publishing giant is going to remain under the control of the Guillemot brothers, five of whom founded it way back in 1986.
I like Ubisoft, and not so much because of their biggest stuff like Assassin's Creed or Far Cry. I like the range. It does smaller games like Grow Up (still my daughter's favourite game), the brilliant competitive shooter Rainbow Six: Siege, there's Trials, Trackmania, Star Trek: Bridge Crew, and of course Just Dance, which is a mega smash.
Just Dance 2019 was how Ubisoft opened this conference, as it has done in some other years, but this felt especially exuberant. A pre-recorded video segued into the conference venue and, before you knew it, the whole thing was a riot of colours, dancing bodies, and folk in silly costumes busting moves. It was a party, because there really was something to celebrate. Perhaps I read too much into it but, for me, seeing Ubisoft open up with such joy felt like a great and deserved moment for Ubisoft and its staff.
Kim: Nah, I agree. No matter how you read into it – and even if you're not a fan of Ubi games – it's hard not to enjoy the spectacle of its E3 conferences. This year's dancing panda was no exception. I had a grin on my face throughout the whole damn thing, and I don't give a crap about Just Dance.
Laura: As silly as it was, I felt the same about Grant Kirkhope coming out during that conference to play Donkey Kong Rabbids music with a rock band. Ubisoft got that for musical bits to work they have to be short, snappy, set to interesting visuals, and ideally something upbeat.
Kim: Yes! That whole piece was amazing.
Laura: Sony on the other hand, I get what they were going for with the scene setting live music between games, but oh my goodness an old man playing a flute alone on stage for like 4 minutes is not a way to get people hyped like they want to be at E3.
Rich: You mean the Ghost of Tsushima intro? I thought that was quite charming and unusual. Fair enough though, it's certainly not someone in a panda costume. With Sony I felt that this was very much a consolidation year. PS4 is still selling well, the library gets better and better, and Playstation is now reaping the fruits of its firstparty investments. We've had God of War and Detroit: Beyond Human in the last few months, and all it needed to do was keep the momentum going. I don't think Sony's show was the best it's done, it didn't have any big surprises, but when showing The Last of Us 2, Spider-Man, Death Stranding, Nioh 2 and Ghost of Tsushima is business as usual… well, you've got to say business is looking pretty good.
Laura: I think if they'd had game footage interspersed with that live music man it would have made a big difference to me not feeling bored watching those bits. Still, as soon as that kiss happened I was right back on board with Sony.
Kim: Sony's conference started a bit ropily - moving everyone from one room to another didn't make for a very good experience watching from home, but everything that was showed off was top notch. Ghost of Tsushima looks incredible, for sure, but surprisingly enough it was the Spider-Man trailer that won it for me. I hadn't been that interested in the game so far, but the latest trailer made it look a hell of a lot of fun. It's definitely shot up on my 'hotly anticipated games of 2018' list.
Rich: Yeah it looks absolutely amazing. I love Spider-Man games, even the terrible ones. I only hope this can avoid the combat issues that have always plagued the 3D open world style of Spider-Man game, and we won't know that till it's in the hands, but the web-swinging… if I'd seen that when I was a 10 year old boy, my head would've exploded.
I expected a little more from Nintendo, actually, but given it so often does its own thing at E3 I wasn't especially surprised by their offering being basically the Smash Bros. show. It's an odd one because, in terms of games I am hot for, obviously Smash is a big one. I love 'em, and the prospect of online play with Little Mac and Switch has me champing at the bit. But I don't think I need to go on about Smash, we all know what it is and why it'll (probably) be awesome, which is why 25 minutes of it (or however long it was) did start to drag a little.
Kim: Unpopular opinion: I'm not interested in Smash. I've never played one. OK, I might give this one a go when it comes out, but I'd have rather Nintendo showed off some other things rather than a whole 20-odd minutes of Smash.
Laura: I tend to side with Rich on this one. I enjoy fighting games, but have never really been great at them, and for me Smash is the one I feel pretty decent at. While I get the argument from non-Smash fans who would have rather seen more time on other games, the way that roster reveal was handled caught me off guard. It's undeniably one of the most positive surprises of the event, even if they have nerfed Snake's butt.
I wasn't surprised by how little Nintendo showed off, it has sort of managed to make itself bigger than E3 in some ways. It told people about the playable games at the show, the games releasing soon, and the big tentpole releases for winter. Nintendo has mastered using Directs throughout the year as mini E3 presentations, and anything it doesn't show here can be used to get excitement brewing outside of E3 when it's not fighting for attention.
Rich: Microsoft impressed me this year but, I have to say, it's all relative to the company's rather dismal record thus far with Xbox One. To be fair to Phil Spencer and the Xbox team, they knew people wanted games and they came out and gave them as many games as they could, straight-up. And that is to be applauded.
But for me the bigger news of the conference was Microsoft's acquisition of four studios and the establishment of a fifth. This is what the Xbox division sorely needs and, it has to be said, has needed for a long time now. One of the problems with operating at this scale is you turn like an ocean liner, so the investments that Spencer was talking about here… some will take a long time to pay off, if of course they ever do. The acquisition of Undead Labs makes a lot of sense, with State of Decay and the sequel doing some heavy lifting during a fallow period for Xbox, while Ninja Theory was – for me at least – the big 'wow' moment in the conference. I think Ninja Theory is one of the best studios in Britain and has been for a long time. I do worry, however, about whether Microsoft will just let it be and create great stuff… or do what it's done to other great studios.
One other thing, which ties into the above, is that Xbox badly needs some new heroes. Crackdown, Halo, Gears, Forza… these are all great series, and Forza Horizon 4 looked absolutely brilliant. But I can't keep getting excited about these games over and over, and it feels like Xbox has a lack of other things to offer. I'm optimistic about the future, but the firstparty slate really needs freshening up.
Kim: Yeah, it would have been nice to see Microsoft have a tonne of fresh, new IPs to show off – hopefully next year given its acquisitions – but I'm still hyped for Forza Horizon 4. What can I say, it's my favourite racing game. And the British setting looks sweeeet.
Laura: Even if Sony had a lot less overall to show us this year than Microsoft, the things it did have felt less stale, less by the books. We saw lots of actual gameplay, for games that have not have 15 entries in their series released already.
Microsoft definitely had what felt like the most traditional E3 press conference, at least how we've come to know them over the past few years. Minimise musical interludes and delays, minimise people on stage talking, and just throw two hours of trailers out. It's a tried-and-tested formula for a pretty well received conference.
Kim: I didn't watch the PC Gaming show, but I caught the highlights afterwards… surely Maneater is worth a mention? Come on, a game that lets you play as a shark with a sole goal of eating people? shutupandtakemymoney.gif
Rich: The best thing about it is the idea of a shark with a skill tree, pure vidya gaem. I really enjoyed the PC Gaming Show this year, though because Kotaku UK is operated by Future Publishing (which also owns PC Gamer) I probably shouldn't praise it too much. Basically it felt a lot snappier than previous years, zipped through some very interesting games, and had a few small but neat surprises – like the launch of indie title Overwhelm, which I downloaded that night and enjoyed very much.
This show also had a game called Sable which has an art style that blows me away. You can see that they're trying to basically create a moving Herge cover and have done an astonishing job of it. The game looks like a more structured Journey, though it was hard to tell, but I'll be keeping an eye on this anyway because… well, it's very hard to look away.
Laura: I found out after the show that the story is being written by 80 Days writer Meg Jayanth, who is really good at doing diverse relatable narratives, so yeah I am very pumped for Sable
Yeah, one lesson I think has been learned from past years is fewer lengthy sit down interviews with indie game developers. Those always slowed down the pace, and this year felt a lot more games games games.
Laura: For me, the most exciting trailer of E3 was the one for Beyond Good & Evil 2. I've been really hesitant to get too excited since it was revealed due to the open world procedurally generated nature of it being so different from the first game, but I couldn't help getting unreasonable excited about seeing young Jade in the trailer wielding a katana, flanked by Domz. What can I say, I just have a soft spot in my heart for the original, it's still one of my favourite video games of all time.
Kim: It's a shame it's still so far away though – not even a playable beta until at least the end of 2019. Wut? At least it gives me plenty of time to play the first…
EA's show was overall pretty… well, EA. They never change much. But I was buzzed over the announcement – and immediate release – of Unravel Two. I wasn't overenamoured with the first, but having played the sequel once the conference was over, it's a lovely little game. I don't care for EA Sports games, but I do like seeing the company continue to support indies. The next game coming from EA Originals that we saw, Sea of Solitude, looks really good too.
Laura: Agreed on EA, I think its conferences just are not designed for me. I got excited about Unravel Two being surprise released, but I don't care about sports, and Anthem just seems to be throwing aside everything I used to love about Bioware games.
Square Enix's conference by the way, what even was that? We got a new CGI trailer for Dragon Quest XI, news about a new Octopath Traveller demo, and some Tomb Raider gameplay. It didn't even have a new Kingdom Hearts 3 trailer. Microsoft got a brand new Kingdom Hearts 3 trailer. Sony got a brand new Kingdom Hearts 3 trailer. Square Enix didn't have a new trailer for its own conference. It was baffling.
Kim: Yeah, Square Enix was perhaps the most disappointing conference of the year. The only two new announcements – The Quiet Man and Babylon's Fall – looked interesting enough, but we didn't see enough for either to resonate in any meaningful way. The game that caught my eye most from Square was Captain Spirit, but we'd already seen that at Microsoft's conference. Proper information about Life is Strange 2 would've been nice. And where the hell was Final Fantasy 7?
Laura: Yeah, exactly. I was convinced we were going to end on something Final Fantasy, either news on the VII remake, or that long rumoured Switch port of XV.
It's probably worth giving a nod again to Devolver Digital. While some of the shock is gone after last year's conference, it did manage to once again produce a fairly amusing 20 minutes of comedy about the gaming industry, all in the lead up to that Metal Wolf Chaos localisation announcement. Also, I am amazed how many people bought their fake value fluctuating currency. Well played.
Kim: I very much enjoyed the cliffhanger and now Devolver Digital's 2019 conference will be my most anticipated show! It was silly, but it made for a nice reprise from the high value, super commercial feel of everything else at E3. You can always count on Devolver to march to the beat of its own drum. More game trailers would've been nice, but My Friend Pedro and SCUM looked cool.
Rich: Anything that disappointed you folks? I've got two, and I'm very sad about both. The new Fromsoft title Sekiro: Shadows Die Twice looks… like a lot of other games around at the moment. There's a bit of a glut of samurai-era games. Now, I also think Fromsoft's one of the best developers around, and Bloodborne's my favourite game ever. But this… what we were shown didn't really do it for me. I was hoping for more radical changes to the Soulsborne formula than a grappling hook. With that said, Fromsoft is good at keeping its cards close to its chest (people thought Bloodborne was a game about werewolves pretty much up until release), so I'm ready to be proven completely wrong.
The other one was Death Stranding. I have a bad feeling about this game, and it seems to me that the reactions to the various mumbo-jumbo trailers Kojima has served up are overblown. I really wonder about this game and what to expect, even though portions of what was shown look like gameplay... it's hard to tell. At first the weird mystery angle had some charm for me, but now it's beginning to feel like a bit of a schtick.
Kim: I've never been interested in Death Stranding. Mumbo-jumbo is a great way to describe it. At least this time we got some gameplay (?) but Norman Reedus Walking Through Wasteland Simulator doesn't exactly fill me with hype.
Nothing that was shown off particularly disappointed me, but as always, there were announcements I hoped to hear that never materialised. Like I mentioned above, something (anything!) about the FF7 remake would've been nice. I'd have liked a Watch Dogs 3 announcement from Ubi, but I suppose I can settle for another Creed game instead. I was also hoping for concrete information – even a teaser – for Borderlands 3. Alas!
Laura: I mentioned it briefly above, but Anthem was really the disappointment for me. I've always been a big fan of Bioware's single player narrative choice games where you can date cute magic aliens while saving the world. Anthem just doesn't look like what I've grown to love from the studio. Also, considering how soon the game is coming out, I was hoping we would see some gameplay without dramatic angles and cuts, maybe some narrative, rather than just a bunch of concept art screens.
Otherwise, was a bit disappointed not to see Nintendo touch on the imminent online service: what the killer app for the launch might be, virtual console, video apps, basically all the stuff we want to know.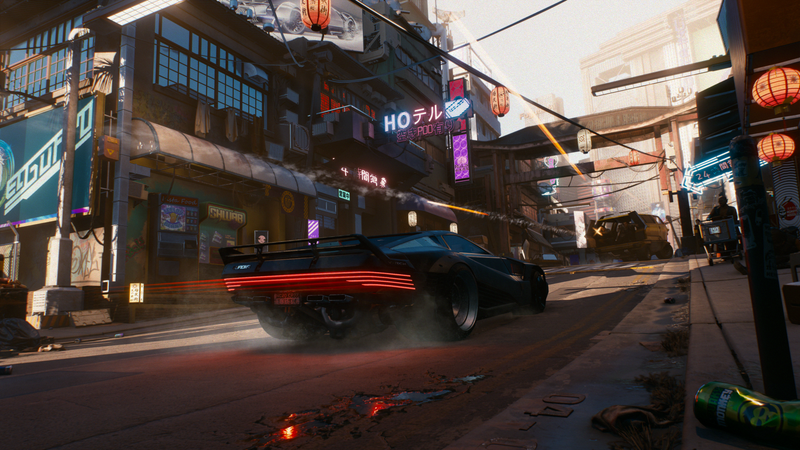 Rich: All this and we haven't even mentioned Cyberpunk 2077, which our readers seem very excited about. For my part I don't like discussing games based off a non-gameplay trailer: there were behind-closed-doors sessions, however, and Jason Schreier seems pretty impressed. Right let's wrap up with our favourite games everyone. I'll go with…
Forza Horizon 4, because it looks like it might fill the Burnout Paradise-shaped hole in my heart. PSVR title Déraciné is a wildly different direction for Hidetaka Miyazaki and Fromsoft, and I'm jazzed to see what they do with it. Resident Evil 2 remake, sorry, because I love that game. Maneater looks like it'll be a good laugh. And I'd probably have to give a shout-out to Bethesda's impressively thorough joke about the Skyrim: Alexa edition.
Kim: Also Forza for me, but I already said that. I'm looking forward to the new Trials game from Ubisoft. The trailer wasn't amazing in any way but I love Trials, so I'm fairly confident it won't disappoint. And although we didn't get to see a whole lot of it, I'm also excited to find out more about Remedy's new game, Control. The new trailer for We Happy Few reignited my interest, too. That game has a lot of potential, but the Early Access version has been a little disappointing. I'm hoping the extra work that's gone into it will be worth it.
Laura: Smash is a big one for me, I'm excited for a portable version of Smash finally that's actually playable seriously rather than as a fun novelty. Otherwise Beat Saber getting a PSVR port is pretty awesome, I can't wait to kill people as a badass lady gay in The Last of Us 2, and Captain Spirit, because I just always seem to love the stuff that studio makes. Oh, and that VR Tetris thing looks oddly fun.
Rich: Phew! That was E3 2018 then. One or two words on the show itself: disappointing, great, a classic? I'm gonna go with… crammed. Hahaha, there was so much!
Laura: Inconsistent. It bounced back and forth between slow, lacking in content, and then oh my goodness everything all the time never stopping.
Kim: I'll go with… exhausting. Or exhilarating. Or somewhere inbetween. Even watching from home, the amount of announcements crammed into each conference made it hard to keep up! But not in a bad way. It was a great year, all things considered. Now, roll on June 2019.
Rich: Indeed! Cheers for reading folks, and we'll see you at the LA Convention Centre in 2019.