Since around 2012, Enako has been a popular cosplayer, but in the past few years, her popularity has exploded. Last night, she appeared on Downtown DX, one of Japan's most popular variety talk shows and astonished all with her sizeable salary.
In the above image, the banner in the top right corner reads, "Japan's Top Cosplayer Enako [Her] Surprising Monthly Salary."
今日は『ジャンプフェスタ2018』のヤングジャンプスペシャルステージにて
「キングダム」の楊端和のコスプレで出演してました!

ブースにお越し下さった皆さんありがとうございました(*⁰▿⁰*)✨ pic.twitter.com/Ff3MvHzTSf

— えなこ (@enako_cos) 17 December 2017
As 2ch points out, the segment that introduced Enako showed a thousand people lining up for her booth at an event, while another clip showed her encircled by 500 photographers during a cosplay photoshoot.
ダウンタウンDXに

えなこりんキター!!!
@enako_cos

カメラマン500人の中にヨネ様も入ってますよ~
それにしても月収1000万円にはビックリですね

デーモン閣下との2ショットも神ですわ#えなこ #えなこりん  #ダウンタウンDX #コスプレ pic.twitter.com/oJZsC1bmnz

— ヨネ様 (@nenefive) 8 February 2018
Cosplay has turned into serious money for her. In December alone, she made over $90,000 (£65,000). The show's other celebrity guests were surprised!
えなこりん月収1000万円( ゚д゚) pic.twitter.com/TIzJHPMVma

— いさや (@isaya) 8 February 2018
She's doing better than she was in 2016 when she said she was making around $9,000 (£6,500) a month.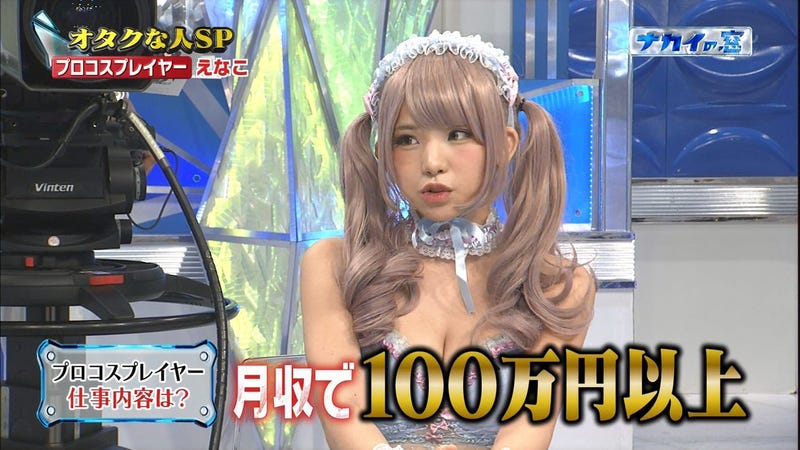 [Image: Starblog]
Enako explained that game and anime companies hire her to be their official cosplayer, even appearing in TV commercials.
本日から『ミラクルニキ 1周年記念テレビCM』が放映開始されます!

そしてなんと!CMに私えなこが出演させて頂きました?
以前からミラクルニキをプレイしていたので、お話が決まった時はとっても嬉しかったです…!
まだ遊んでいない方は、是非DLしてみてね♪ pic.twitter.com/POKWMN4Gsq

— えなこ (@enako_cos) 8 December 2017
She also does regular hour-long talks on Live.me, where she can make over $1,800 (£1,300) in just an hour, thanks to viewer contributions. She also sells her photobooks and goods.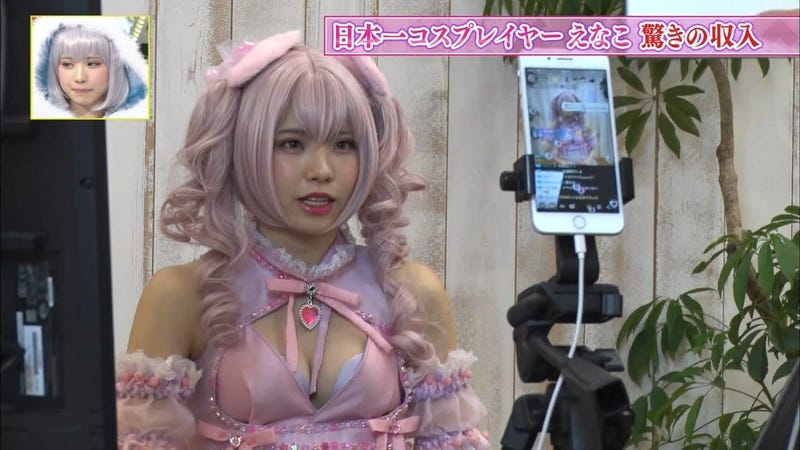 [Image: 2ch]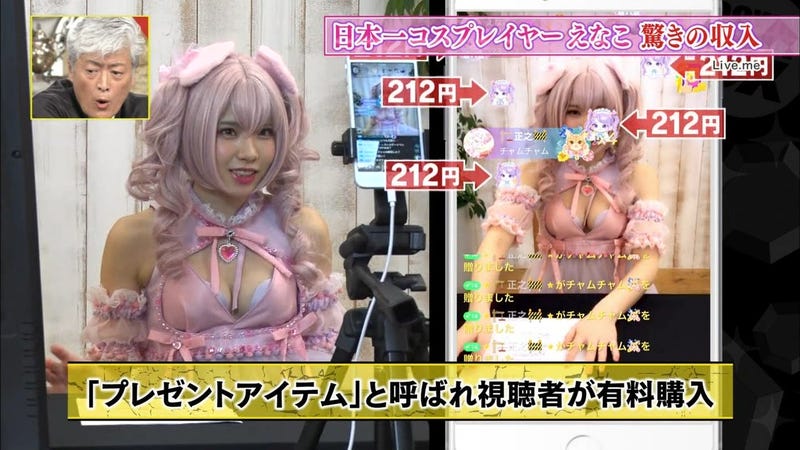 [Image: 2ch]