Yesterday, Microsoft sent out a promotional email for Dead Rising 4. The pitch was some zombies singing Christmas Carols, and the email had the subject line "NNNNGGGHHHAAAA".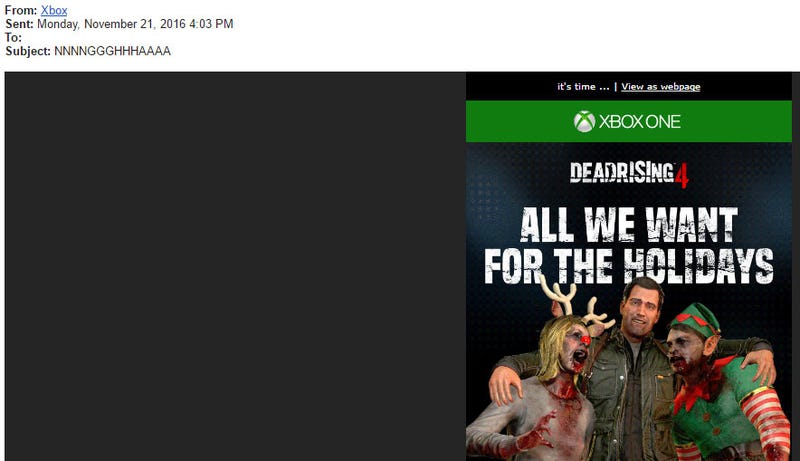 The intent was obviously to put into text the kind of noise a zombie makes, but when you arrange those letters together and say them out loud, you get something...else.
Nobody is saying Microsoft did this intentionally. It's just a dumb/unfortunate combination of letters, something company PR man Larry Hryb acknowledged on Twitter:
Today we sent a DR4 email where a zombie roar was interpreted by many as a racial slur. We apologize and promise to do better next time.

— / Larry Hryb / + 1m (@majornelson) 22 November 2016
I do not recommend reading the replies to that Tweet.
Going forwards, Xbox email team, may I propose the following zombie sound effects that do not share pronunciation with a racially-charged term:
UUUUUUNNNNNHHHHHHHH
NNNMMMMMRRRRRRHHHHHHH
EEEEEHHHHHHHHHRRRRGGGGGGGGG
[ZOMBIE NOISES]
[GURGLING NOISES]
MEDIA ALERT
PRESS RELEASE
LAST CHRISTMAS I GAVE YOU MY HEART AND ON THE VERY NEXT DAY YOU GAVE IT AWAY FOR YOUR CHANCE TO WIN ONE OF THREE XBOX ONE S BUNDLES EXCLUSIVELY AT GAME
Thanks Jonathan!