Amazon UK, and other UK retailers, just leaked the possible price of the long delayed Oculus Touch controllers, and perhaps unsurprisingly, they're expensive. The leak suggests that the Touch controllers will ship in the UK on November 23 and they'll retail for £190.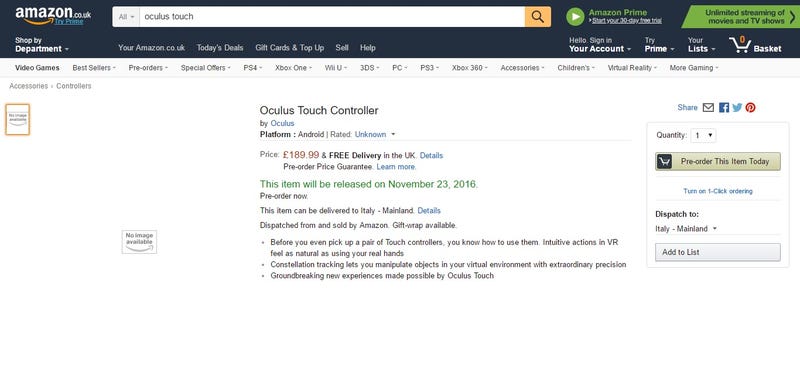 via Road to VR
When added to the Rift's already high £550 price tag, it firmly puts the system in the same price range as the technically superior £780 HTC Vive. Forgive us for feeling a little sticker shock.
That's nearly £200 more than all the equipment you need for VR on a Playstation (a Playstation VR headset, Move controllers, a PS4 camera).
Usual caveats about leaks apply: we won't know for sure the price until later today. Let's hope Palmer Luckey and pals really wow us during the Oculus Connect keynote at 18:00 BST. We'll be covering it here at Gizmodo, but if you want to watch live you can tune in via Twitch. [Road to VR]
---
This article originally appeared on Gizmodo UK, the tech site which is equally fascinated with design, architecture, and science.