Can you even believe it? I cannot believe it. Just kidding, I can totally believe it.
Ubisoft's much anticipated online shooter The Division launched last night, and its servers were feeling the strain. I had been trying to play the game on PC for and hour, and had been hit with with endless "Sierra" errors, each with a different number. Sometimes I got "Romeo". Uplay itself gives me an error that says that the service is down, and it doesn't even seem able to sync my achievements.
The Division requires an internet connection at all times, so if your link to the servers goes down (or the servers themselves go down) you can't play at all. Kotaku's Luke Plunkett was able to play from Australia for about five hours earlier in the day on PC, but then was unable to connect later in the evening. It seems safe to assume that everything went to hell when North American players were allowed on, at midnight Eastern time.
Users on Twitter, Reddit, NeoGAF and elsewhere were all reporting server outages and a widespread inability to connect or play. Meanwhile, the hapless PlayStation Twitter account Tweeted a Q&A with some of the people who worked on the game; as expected, the responses have been enjoyable: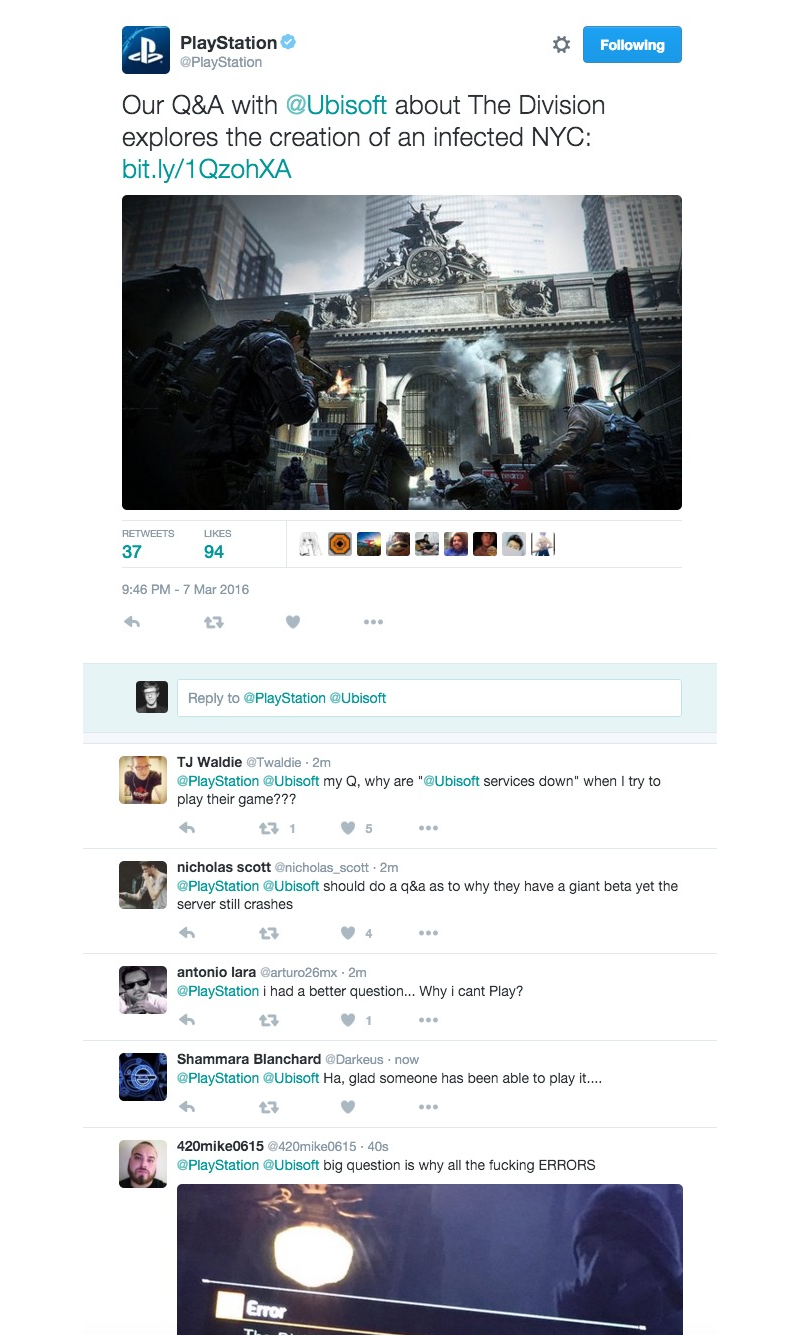 Given that The Division had two betas, I'd been hoping the launch would go more smoothly. I suppose this kind of thing really is to be expected at this point.
The servers eventually let more people get in. Luke and I were able to log in on PC, though plenty of others were still reporting being unable to play. As is usual with big launches like this, your mileage will probably vary for a while.
By 2:30 am Eastern time, an update on the Ubisoft forums appeared, with an Ubisoft support representative saying "all services have resumed normal operation on all platforms. We are monitoring the situation." Lots of users were still reporting issues at that point, but it was a promising sign.
How are you finding the servers now? Are you still facing any problems? Let us know in the comments!