April Fool's day - the first of April. The beginning and end of all that is good and bad about civilisation. A day for the foolish to think they're funny, and smart people put way too much effort into something that provides mere nanoseconds of entertainment before the next jape rears its head.
So, of course, it's a day when the games industry goes mad for its hilarity. Please send the sides doctor, for mine appear to have split. And while I await medical attention, here's a roundup of today's April Fool's Day action in gaming.
GamesRadar's list of headlines is incredible, by the way.
Romance Central
Dance Central is embarrassing and tiring when it comes to wooing a potential mate - but Harmonix has your back: Romance Central is here!
It's scientifically designed to pair you with the dance partner of your dreams, apparently. So... Brian Blessed?
War for the Overworld: Australian Edition
You know what this is without even watching it, because it's a joke that hasn't been funny for as long as either a) Australia has been a country, or b) since you grew beyond six years of age. Seriously - upside down jokes? Ugh.
League of Legends semis decided... not by LoL
Instead, Riot has announced that - owing to some energy drink spillage - the MOBA action in the semi-finals will be replaced by chess. I'm oddly okay with that.
Hanako - Samurai Pillow Fight

Being a Kickstarter success isn't good enough for some people. No, some people just have to take it a step further.
Agri Birds
Countdown until this 'resource management meets visual novel meets point-and-click survival horror meets your face' (-'em-up) is announced for real: 10, 9, 8...
Corsair's ballsy M63MM RGB Mechanical Gaming Mouse
Seriously, it's just endless jokes about balls. That I laughed at. I apologise for nothing.
MS-DOS Mobile
It's funny and all, but I have DOSBox on my Nexus 5, meaning I literally have DOS on my phone right now.
The Evil Within: Into the Light
Naturally what we need to tide us over until we get more proper Evil Within is a whimsical animated series... Alright, I would actually be more likely to watch this than play the game, coward that I am.
The Witcher III DLC detailed
More details about the Beard & Hairstyle DLC. And for those asking, these screenshots were taken in 32K resolution. pic.twitter.com/nSpsgflNWC

— Marcin Momot (@Marcin360) April 1, 2015
It's the '32K' comment that really made me smirk hard at this one. Also that Geralt looks darling with those styles.
Rayman devs branch out into... insect repellant?
After 20 years of development, @Ubisoft Montpellier is proud to announce MOSKITOR! Available in pharmacies worldwide. pic.twitter.com/4DOcprLUov

— Rayman (@RaymanGame) April 1, 2015
Sure, why not eh?
Sunset Overdrive's slyly introduced 'cheevos
It's always funny - well, usually funny - to have silly achievements or trophies in a game. Maybe I'm not paying much attention, but we don't seem to get anywhere near as many as we used to.
But fear not! For Sunset Overdrive has received two achievements totalling 200 extra points for those playing post-download of the April 1 update. One for 199 points, the other for... a point.
WOW brings the swipin' love
The act of swiping left and right with a featureless expression adorning your face might seem like a weird act for those of us who enjoy aimlessly clicking on autopilot for hours at a time, but a lot of people like the dating app Tinder.
And so it is that it will be introduced - sort of - into World of Warcraft, allowing your minions to get distracted and not actually do what they're supposed to. Huzzah!
Superhot x Quake
This isn't actually an April Fool's - you can download and play it - it's just really cool, and was released for the day 'o foolishness.
Galaga x Tekken
Another crossover, and another game I'd actually play. Huh.
Snake VR
I never did get into Snake properly first time around - maybe if it was in immersive 3D in a VR style I would get hooked? Well now I can!
Metal Gear Airsoft
How to make Airsoft that bit better: add in MGS-style cardboard boxes. Please actually do this, someone.
Minecraft's love update
The monsters are gone - they're now 'inhabitants' - rain has disappeared, as it upset some players, and lava has been replaced with liquid cheese: it's the Minecraft love update!
Best of all, you can actually play this update - instructions at the bottom of this post.
Slowpoke-mania!
Bad, but brilliant news - a secret, 52-year long experiment to breed Slowpokes in captivity has been revealed to the world in spectacular fashion after hundreds of the pink dummies escaped from captivity.
I'm slightly in love with this one, because the images are incredible.
The arcade hot springs
Arcades need more water, that much we've known for a while - but I never did think they needed more hot water. What a fool I was!
The hot springs arcade means you can relax and play some games in the nude, all while fearing imminent electrocution.
Smartphone airbag
That's not as in an airbag for a smartphone - it's an airbag for users of smartphones, as demonstrated ably in the above gif.
This actually made me laugh aloud. Maybe I'm getting easier to please in my old age?
Professor Hayton and the Alfalfa Condundrum
Yes yes yes yes yes. YES. (by Kevin Atteridg)
Zombie Army THRILLogy
How unbelievable is this? Well, given what the Sniper Elite/Zombie Army series has done so far, it really isn't. At all. Hitler doing the Thriller dance? I'm genuinely surprised Rebellion hasn't released that as 59p DLC in the past 12 months.
LOVKKEN
That's Lord of Vermilion x Tekken, for those not down with their contraction. Yes, the world of Tekken is entering the fantasy collectible card world of the Lord... wait, no, this one isn't real either.
Sigh.
PlayStation Flow
Sony has gone big with their dupe, but it's not working very well for me - mainly because it's a corporation known for making silly hardware mocking the fact that companies make silly hardware.
Yes, I am still hurting about proprietary memory cards for the Vita.
NURF
Doubling down on last year's gag, the League of Legends team just isn't letting the rapid-fire joke die. In 2014 we saw uproar when URF - ultra-rapid fire - was announced. In 2015, we're getting New ultra-rapid fire.
Because revisiting something that made people so angry first time around is a good idea?
Phoenix Wright... the dog
I don't even...
Half-Life 3: Honest Trailer
This wasn't liked by our US compatriots, but, well, I laughed more than once, so it has to be doing something right.
D5 - Dark Dreams Don't Die with Deadly Premonition
Alright, I have to admit I both laughed at this and then realised I would play this game. Surely that's the perfect balance for a gaming April Fool's?
The Battle for Middle-Earth III
For a minute I was taken in by this, and I'm not even a megafan of the series - so I hate to think how the proper fans felt on finding out this is a big phoney from some random person in the US.
Note: it's not a joke, it's just a lie. This day...
The (literal) Steam machine
Think Geek have a few joke items on their site, all of which are at least pretty funny. But the (literal) Steam machine - from Watt and Newell, no less - looks genuinely great and I really want one. Please.
Dying Light's contaminated Antizin
Now this is the way to do an April Fool's gag in gaming - change the actual way you play. Dying Light's foolish Antizin injections will today impart superpowers on players, allowing you to go kicking mad. A jape that makes me want to play the game - crazy!
Admittedly I haven't tried it today, so have no idea if it's actually been implemented, or if it was just a video and press release with no follow through.
Daigo's retirement
Another funny one, as far as I'm concerned - not only does it make a fairly witty gag, playing with our preconceptions about what one of the world's foremost pro gamers wants to do with his life, it runs with it on a site that's full of nuggets of actual chucklesome content.
Check those customer testimonials. They're actually funny.
BACK TO THE FAST AND FURIOUS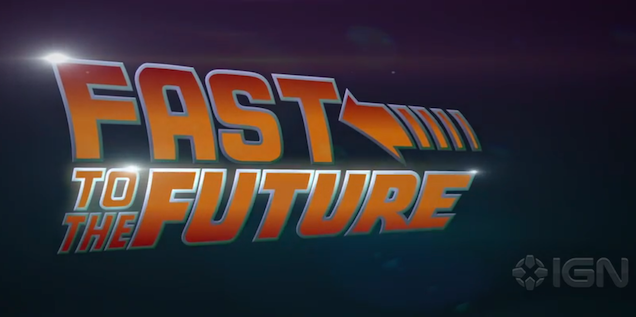 Pretty solid fake trailer by IGN—they even got Vin Diesel.
GUNCAT
The spiritual successor to Dying Light.