After seven years of development, Titan—Blizzard's not-so-secret MMO—was cancelled. Though the game was never officially announced, and though we never got to actually see the game in action, the internet does have a lot of feelings about Titan.
It makes sense. The cancellation is a huge deal, especially when Titan was considered Blizzard's next big thing after the behemoth that is World of Warcraft. Nevermind the amount of money and time sunk into the game; of course people are reacting to the news. Blizzard fans can't help but wonder what Blizzard's future holds—and more broadly, what this this means for MMOs and even massive triple-A games in general.
It helps that Titan sounded genuinely fascinating. Lots of comparisons to Team Fortress, Destiny and The Sims abound. Naturally, many folks wish they could have played Titan—a few folks wanted the game so much, they seem livid that Titan was canceled. And some folks responded to the news with a virtual shrug.
Here's how the internet reacted to Titan being cancelled:
I do wonder what Blizzard will after WoW since project titian is dead. SC2 isn't doing the best and Diablo isn't anything compared to WoW.

— Emerald (@DracoCretel) September 24, 2014
So blizzard cancelled that project they were working on, hope they focus more on not fucking up WoW.

— thatreallylameguy (@areallylameguy) September 24, 2014
Some people are upset Blizzard canceled Titan. Honestly, don't miss it. With hardly a peep at all about it in 7 years, doesn't effect me.

— Chris Johnston (@TheWiccanGamer) September 24, 2014
Sad to hear blizzard is no longer making Titan. Still one of the best gaming companies of all time though! #blizzard

— Deathwatcher (@death_watcher22) September 24, 2014
Man. Blizzard's cancelled Titan project seemed to have promising elements. Hoping they'll translate some of their ideas to WoW.

— Keano Raubun (@xArcky) September 24, 2014
Wish Blizzard didnt cancel that MMO tbh

— Baepex in Latex (@LoLApex) September 24, 2014
I think Blizzard's focus now is creating the next LoL rather than the next WoW.

— superannuation (@supererogatory) September 24, 2014
I really just want WoW 2 from Blizzard. WoW, new areas, new quests, better graphics - sign me up! #wishingfulthinking

— Mike Ybarra (@XboxQwik) September 24, 2014
If Blizzard's "Titan" had been The Sims by day and Team Fortress 2 by night...yeah, I'd have played that.

— Rus McLaughlin (@rusmclaughlin) September 24, 2014
WoW players wondering what's next now that Titan is canceled, it's ten more years of WoW.

— Tony Recchia (@then00b) September 24, 2014
Blizzard cancel Titan :(

— Michael (@darshno) September 24, 2014
Why does everyone think Titan being canceled matters? Blizzard is setting it up for a nice BlizzCon reveal of a new game IMO.

— Rhéa (@ashelia) September 23, 2014
So Blizzard drops Project Titan and people are absolutely livid? It makes you angry that they dropped a game no one knew anything about?

— Jack Doumanian (@JackDoumanian) September 24, 2014
Blizzard's canceled TITAN MMO sounds like a mix of:

1) WoW
2) Persona
3) Destiny
4) The Sims
5) Team Fortess 2

Amazing.

— Alex Crumb (@Alex_Crumb) September 24, 2014
BRB - Getting lunch. DON'T CANCEL ANY MORE GAMES BLIZZARD. K?

— Adam Holisky (@AdamHolisky) September 24, 2014
personally i think blizzard should make an MMO based on Hearthstone

— phil kollar probably (@pkollar) September 23, 2014
It feels like it was another lifetime when I was constantly concerned about Blizzard releasing Titan the same time as 38's Copernicus.

— Rich Gallup (@rich_gallup) September 23, 2014
Blizzard has cancelled Titan. They've started working on World of Hearthstone instead.

— El Oshcuro (@DaveOshry) September 23, 2014
In a world where Blizzard has 20 million + people playing Hearthstone, why do they even need a Titan?

— David Ellis (@DavidEllis) September 23, 2014
Reading about what Titan was going to be. It sounds like it would have fulfilled my dream of being a shopkeeper in an MMO.

— Alex Santa Maria (@NeedlerFanPudge) September 24, 2014
The concepts behind Blizzard's Titan sound pretty awesome. Shame we'll probably never see it now

— Sophia (@SophiaAlex120) September 24, 2014
Man, Titan sounds like it could have been really cool. Hopefully some of those ideas will show up in later Blizzard games.

— XANDER CAGE (@XANDERCAGEGAF) September 24, 2014
Other than Blizzard's existing evergreen brands, I don't think there's a future for AAA budgeted new things at the studio after Titan.

— superannuation (@supererogatory) September 24, 2014
Isn't Blizzard pretty much analyst-proof at this point?

— Justin Lacey (@JDevL) September 24, 2014
I guess you could say that Blizzard's cancelled MMO really was... Titanic.

— Gagging Panda (@thebmpanda) September 24, 2014
From our own comments section:



The following are all on Blizzard's Facebook page: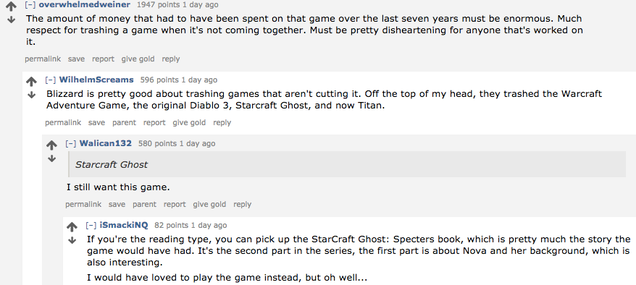 What about you, how did you react to the news that Blizzard has cancelled Titan? Let us know in the comments.