Nobody was expecting a new Silent Hill game—much less one that stars Walking Dead actor Norman Reedus, and is being made by Hideo Kojima and Guillermo del Toro. But that's exactly what a little demo released on the PS4 store yesterday surprisingly teased for some players who beat it: a new horror game called Silent Hills.
The demo is called "P.T.," as we all now know, and it stands for "Playable Teaser"—as in, playable teaser for Silent Hills. The reaction to this news on social media has been pretty fantastic.
It seems safe to say that many people are hyped on the project. There's definitely some concern over how certain things will be handled in the game too, but nobody can deny that the interactive manner in which Silent Hills was revealed was novel and so very Kojima-like. After all, right up until the end of the demo, nobody actually knew what P.T. actually was: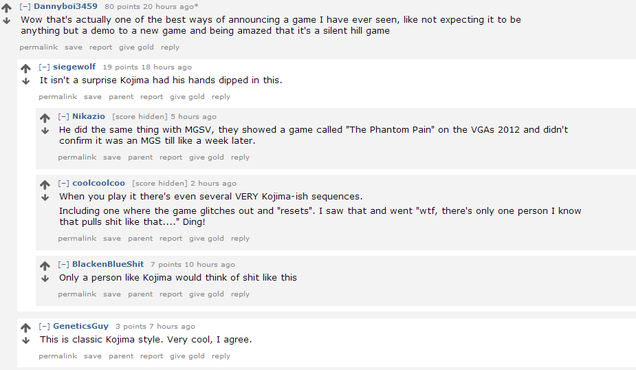 Here's some more of what people have to say about Silent Hills:
TL;DR Kojima is a beautiful troll.
And amazing.

— Chris (@Soulflarz)
August 13, 2014
I bet Kojima is stoked to not be working on a Metal Gear game in the first time in forever

— Will Richardson (@WilltheMgkAsian)
August 13, 2014
In conclusion: del Toro is directing a Silent Hill flick based on the dog ending from 2.
pic.twitter.com/9xv92t0xzD

— Steve Climaco (@jjammerzs)
August 12, 2014
>Demos cardboard boxes
>Stealth reveals SH

Kojima stays winning for all time.

— Ron Taylor, Esq. (@TaleSpun)
August 12, 2014
This is the best thing to happen to Silent Hill in YEARS

— Leif Erikson (@Dogmatic2020)
August 12, 2014
Silent Hills will only take you 20 minutes to complete but it will have "hella replay value, so don't worry" says Kojima.

— El Oshcuro (@DaveOshry)
August 13, 2014
Kojima I will never hate on you again if you call this game "5ilent Hill5"

— [Mystery Video Game] (@philrowen)
August 13, 2014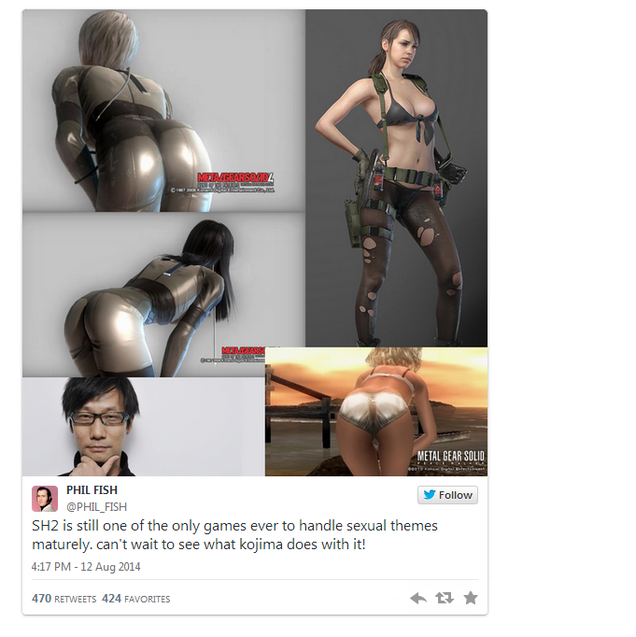 SILENT CHILLS RT
@Kojima_Hideo ノーマン・リーダスと。 pic.twitter.com/BxSRupSzo9

— Michael McWhertor (@MikeMcWhertor)
August 12, 2014
"Guillermo del Toro Silent Hill" was previously only something I'd written on a blank Card Against Humanity but is now real REAL I SAY

— Brock Wilbur (@brockwilbur)
August 12, 2014
Can't wait to see what happens when Kojima, a nutcase with delusions of cinematic grandeur, works with someone who actually makes films

— Brenna Hillier (@draqul)
August 12, 2014
By Aliens nomenclature, Silent Hills takes place directly after Silent Hill, right?

— Chris Person (@Papapishu)
August 13, 2014
Silent Hills = plural scariness

— Wario64 (@Wario64)
August 13, 2014
COLONEL: james! you found a tactical flashlight! i-
JAMES: the dummy. it was wearing a dress. just like mary's
COLONEL: stay focussed james!

— ̶ ̶ ̶ ̶ ̶a̶l̶x̶ ̶ (@linedrag)
August 12, 2014
This new Silent Hill has amazing potential, can't wait to see more!

— Gheremie (@TheDeathDrag0n)
August 12, 2014
"Silent" hill is the name, not 12 hours of dialogue heavy cutscenes hill. The less explicitly said the better.

— Thomas (@ABCBTom)
August 12, 2014
Kojima's genius comes from the fact he's actually based in a separate pane of reality where all the mental shit he does makes sense.

— Dirty Randy (@owen_beynon)
August 13, 2014
Ive been waiting for a game that ties mgs, walking dead and silent hill. I expect the ufo ending to be spectacular bc kojima

— Jen✧U(•ㅅ•)U♥ᕦ(ㆁᴗㆁ)ᕤ✧ (@FuCUMtomi)
August 12, 2014
my attempt to convince myself that the Hideo Kojima/Guilermo del Toro/Norman Reedus Silent Hill is actually happening
http://t.co/T5IgbZqC7w

— Reverse the Holarity (@fireh9lly)
August 12, 2014
The P.T. demo is incredibly terrifying. Haven't played anything that scary in a long time. Kojima + Toro + Norman Reedus = wow. Can't wait!

— Mike S. (@Styfe221)
August 13, 2014
Kojima should release a new PT trailer that shows people swearing at the game after they can't figure the final puzzle out.

— Chris (@kurisub)
August 13, 2014
YAS, scare me Kojima. Make me cry. Abuse me.

— gravelord matt (@overallverdict)
August 13, 2014
kojima is too much how is he working on both these games at the same time

— Big Boss Apologist (@YuansCrotch)
August 13, 2014
I'm not really interested in a new Silent Hill by Kojima, but kinda curious at how photorealistic visual would work of the genre.

— KiQun (@GaleGlory89)
August 13, 2014
IMAGINE KOJIMA AS A COP. Most convoluted murder theories ever.

— Tamoor Hussain (@tamoorh)
August 13, 2014
I'm so hype for P.T./Silent Hill it's not even funny. My underwear changes are ready.
#kojima #deltoro #yassss

— Sal Mattos (@salmattos)
August 13, 2014
And obviously, there are some video reactions to P.T., too—it is a game, after all. Here are a couple of people playing through the game, in case you're too scared to play through it yourself...or, if you just want to be amused at how the game managed to scare people really well:
What about you, how did you react to the new Silent Hill?