At a special event in Los Angeles this morning, Disney announced the second phase of its toys-meets-games franchise, bringing Marvel characters into the mix with Disney Infinity Marvel Superheroes.
Marvel editor-in-chief Joe Quesada took the stage at the event (introduced by Agents of S.H.I.E.L.D.'s Agent Phil Coulson) to talk about the collaboration, following the new game's debut trailer. He was joined by award-winning comic book writer Brian Michael Bendis, who has been tapped to help develop the story for the new game.
Following a bit of back and forth, Bendis and Quesada revealed the first Marvel figures for the game.
Those are the first six figures in the Marvel collections — there are over a dozen more on the way. There will also be new Disney-centric content and characters coming to Infinity 2.0.
Along with the new figures, all of the figures and power discs from the first Disney Infinity will be compatible with Disney Infinity Marvel Superheroes, and all Toy Box content created in the first game will work in the second as well.
Here's the new starter kit: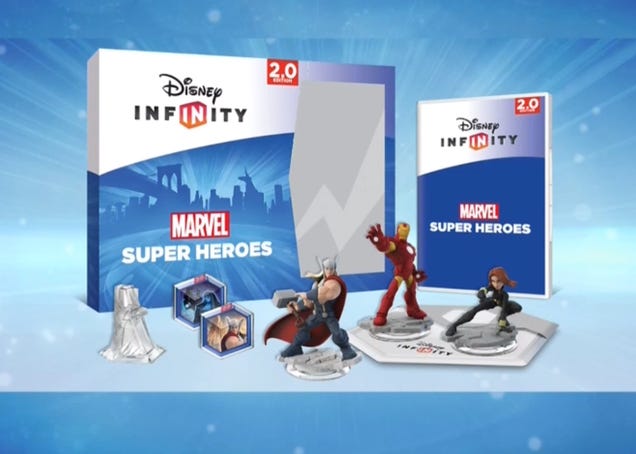 The starter kit comes with three figures, the Avenger's playset piece, and a pair of Toy Box game discs. Toy Box games, new for the second phase, use game assets to create new experiences based on existing game genres — tower defense and dungeon crawlers were mentioned. P
Disney Infinity Marvel Superheroes is coming this Autumn to the Xbox 360, PlayStation 3, Wii U, iOS and PC, as well as PlayStation 4 and Xbox One.