by Toshi Nakamura
In this month's Monthly Korokoro Comic (月刊コロコロコミック), a Japanese manga focused on young children, Earth's Mightiest Heroes got the spotlight with their own separate mini-manga. Titled Marvel Avengers (まーべるあべんじゃ~ず) and written by author Fujiminosuke Yorozuya, the oneshot 12-page manga features Avengers heroes Captain America, Iron Man, Hulk, Thor, Spider-Man, and the Wasp and their comedic introduction to Japan.
Their first major setback: Nobody knows who they are.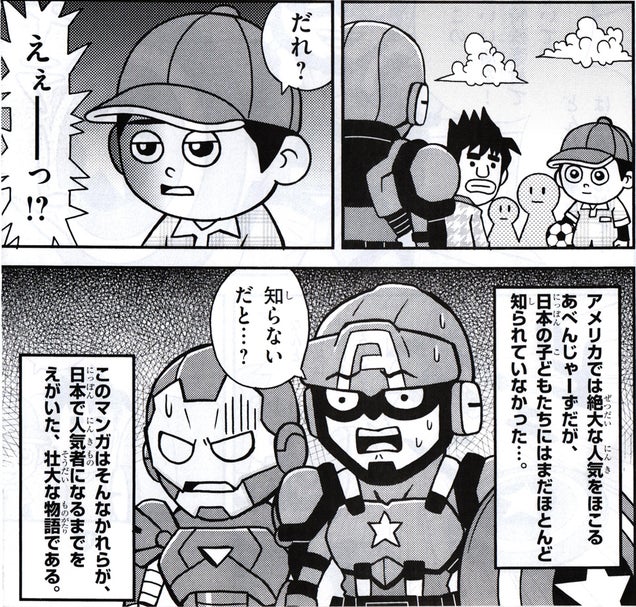 The manga is aimed at children, so the images are simplified, with the characters deformed in a more cute style, but humor is still very enjoyable, with Thor having his armor and hammer confiscated by immigration customs and the Hulk skinny and wasted because he doesn't like Japanese food. Overall, it's pretty funny to see the super-powered heroes out of their element and suffering from culture shock.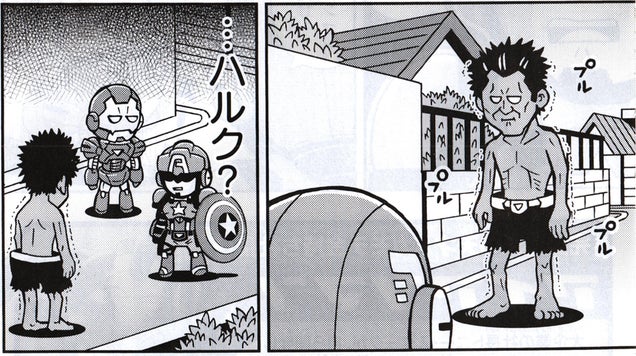 Apart from familiarizing kids with the heroes, the manga also serves to turn them on to the new Japanese Avengers anime, Marvel Disk Wars: Avengers. There are ads for the anime as well as advertisements for the collectible toy disks that kids can buy interlaced throughout – What's entertainment without a little gratuitous advertising?
Hopefully this will eventually lead to me being able to mention characters like Ant-Man without getting blank stares all the time.