Of the 12 games in South Korea's popular DJMax series of rhythm games released on PC and Sony handhelds since 2004, only three have made it to the West, and only one of those has come to these shores. Today, we got another. The series' console debut, DJMax Respect, is out on PS4 today in Europe (in free demo form) and North America. Maybe I should have waited instead of importing it last year. Nah.
I didn't wait when DJMax Portable, the handheld version of the 2004 PC original, was released back in 2006 for the Sony PSP. The lure of experimental electronic music mixed with anime-style imagery was too much to pass up. When Neowiz (formerly Pentavision) released the first EU version of the game, 2010's DJ Max Fever, I was already way ahead of the curve. 2010's DJMax Portable 3 and 2012's DJMax Technicka Tune, the next international releases, had very regionally restricted distribution, forcing me to import once again. And yeah, I've been playing DJMax Respect since September of last year.
According to DJMax Respect game director Seung-chul Baek, the long-running series has always had a large following in the West, despite most of the games not officially being released here. "We really can't disclose the exact number of units but we can confidently say that the amount of DJMax games imported to West seem to be about half of Asia sales," Baek told Kotaku.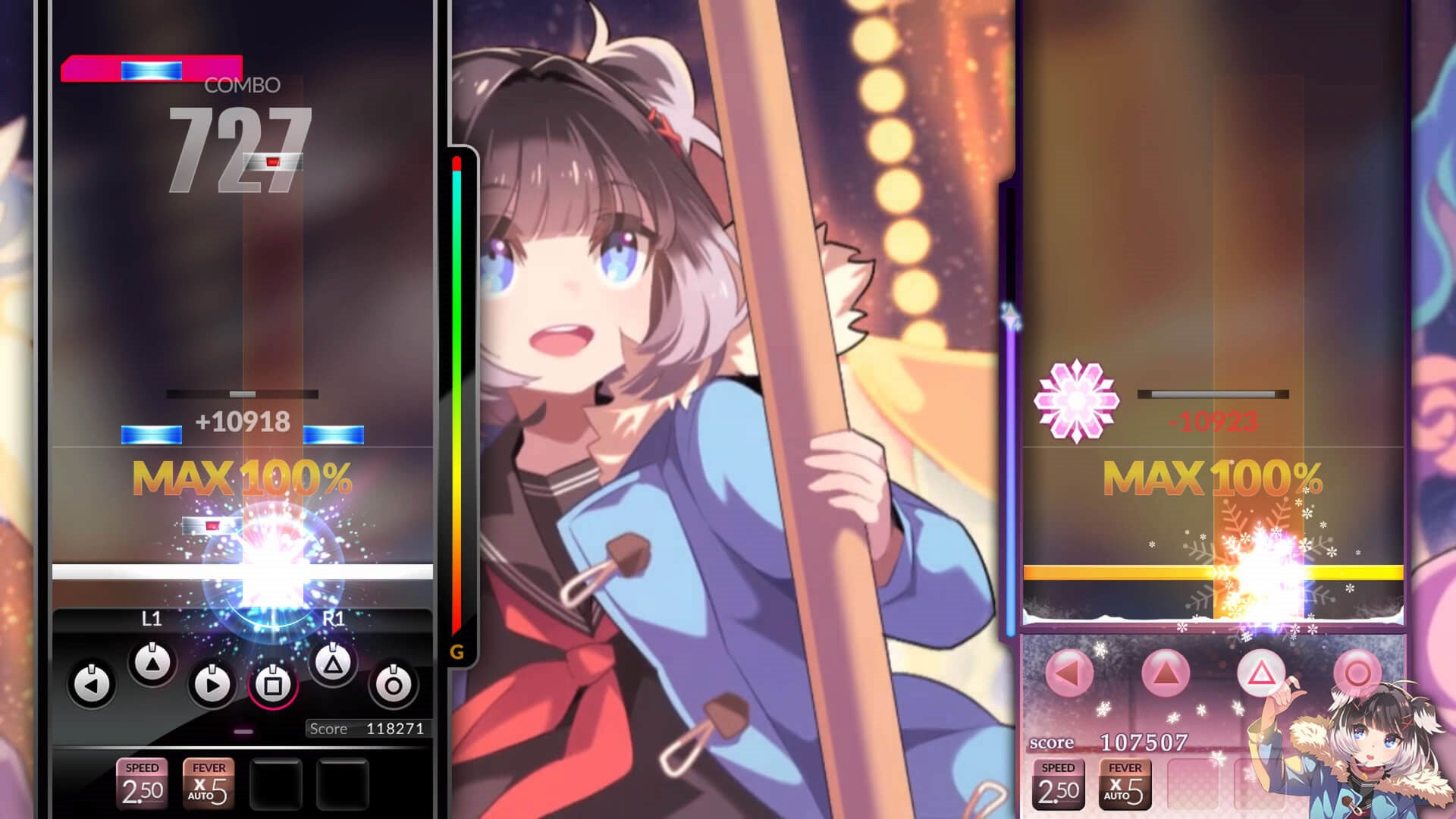 DJMax Respect's online and local multiplayer lets players of different skill levels play together.
Whatever the actual numbers are, that's a hefty fraction of sales, mostly made with little or no advertising in Western markets. So why haven't more DJMax games made it to the West?
"To be honest, we couldn't afford the risk of spending a lot of money required to do a proper release in the West," said Baek. "Our studio is fairly small so our budget is also tight. As we all know, rhythm gaming is a niche genre so we just couldn't afford to spend the money on all of the necessary localisation and marketing to bring the game to the West."
One of the new game's hardest, performed by Horie on YouTube.
Following the release of DJMax Technika Tune for the Vita in 2012, Neowiz shifted focus to mobile games, which are much easier to release internationally. 2012's DJMax Ray and 2013's DJMax Technika Q for iOS and Android took up a lot of the studio's time and energy. "Our plan was to quickly release few titles on mobile and return to console development, but it took a lot longer than we initially expected," said Baek.
But get back to console they did, and in a big way. DJMax Respect for the PlayStation 4 is meant to be a "culminating exclamation point in the series," created to please all the fans who've stuck by the games. While it includes 40 completely new songs (including "Glory Days," which has quickly become a favourite with fans), the main draw for long-time players is the 107 remastered favourites included on the disc, plus the promise of nearly every song that's ever been featured in the series eventually being added as downloadable content.
I have to wait for the DJMAx Technika 3 DLC pack to play "Angel". It'll be worth it.
So eventually the the PlayStation 4 game will have all the songs fans love and all the music videos for those songs remastered in 1080P. That's a game worth waiting for. Even if I didn't.
The free demo of DJMax Respect is now available for PlayStation 4 in the UK.