The Twitch stream opened on an empty chair. A few minutes later Kaplan walked in and sat down. He sat there for hours, sometimes crossing his legs, sometimes uncrossing them, and always looking, watching, waiting. The Overwatch fans who flooded the Twitch chat were both intrigued and confused.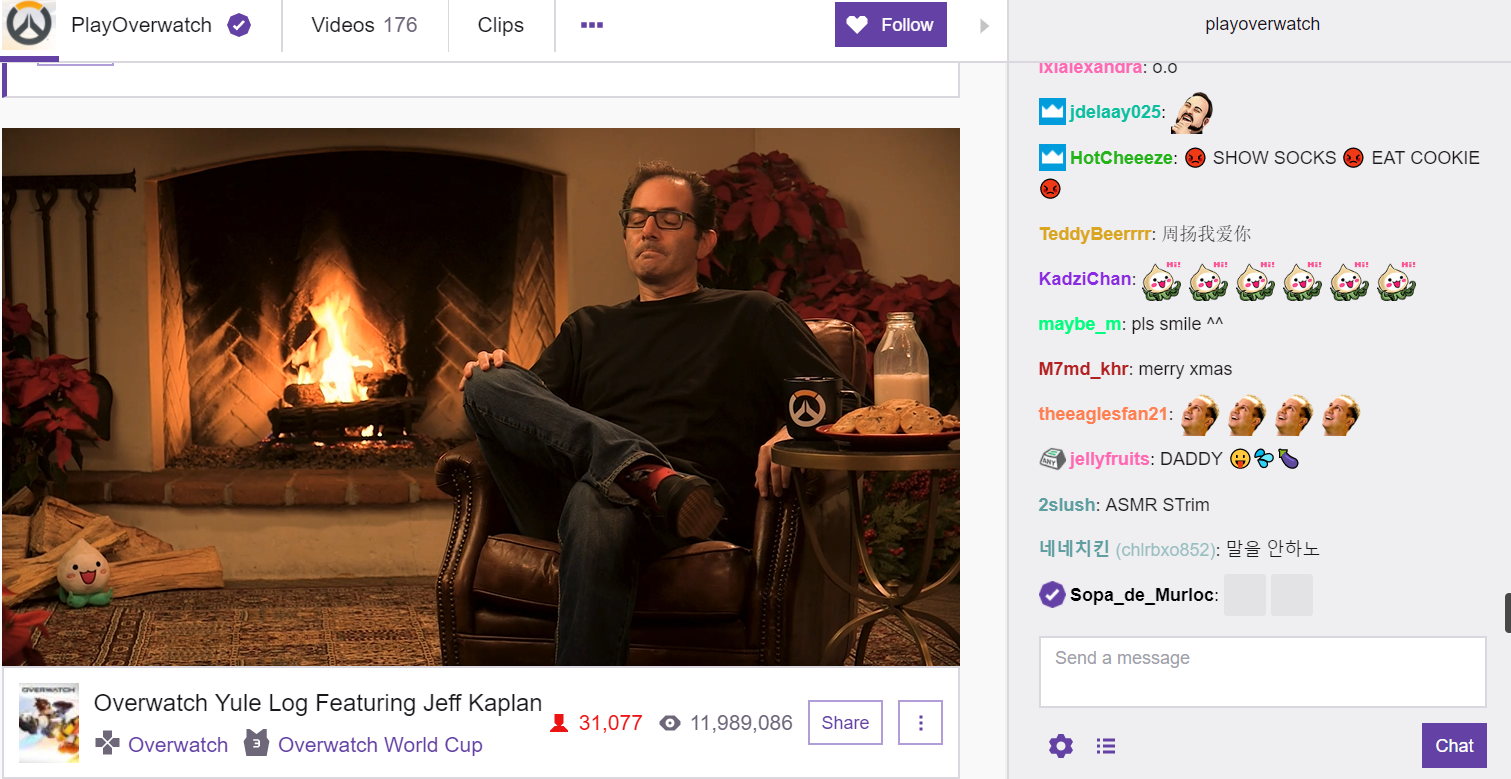 They wanted to know: what's he doing there? What's this all about? And most importantly, how long will it go on? Like passersby at the zoo, the thousands who tuned into the stream set their expectations low. They weren't expecting some big, new Overwatch announcement, or an update on the game's 2018 plans. The answers they were seeking were more basic. "Do something," was a common refrain you could see floating by in the chat log, as well as people begging him to eat some of the cookies nestled alongside a jar of milk on the table next to him.
And in case anyone thought the stream was somehow a small segment of footage on loop, there were a few weird moments sprinkled throughout, including one where Jeff got booped by an off camera boom mic. In the other, less action filled parts, you could feel time passing as the rate of Jeff blinking changed. Three different blinking speeds - we'll call them long stare, short stare, and turbo eye lash flicking - took shape in the stream like the ghosts of Christmas past, present, and future.
After three hours Jeff broke his silence. He said the milk is probably poisonous and the cookies were a lie. Also there was nothing in the coffee mug, something he demonstrated by picking it up and turning it upside down. Someone off camera meanwhile told him he had to do this for another seven hours.
This led chants of "#freejeff" to break out in the Twitch chat as well as on Twitter, with sceptics still shouting "looped!" The designer said that working on Overwatch and making it better was his happy place, not sitting in front of a fireplace making eyes at the camera and puffing his mouth out. Still, he persisted. And it paid off: by the time the stream ended he'd acquired over 13 million viewers.
As Overwatch's creative director, Jeff Kaplan has spoken in the past about how dedicated the team is to supporting the game and engaging with the community, even if that means working holidays.
But he just sat and stared, perhaps pondering the future of the game or that email he forgot to respond to from a few days ago or maybe just the fact that a few Christmas Eves ago he never imagined where he'd be on 24 December 2017.