There's no such thing as a happy ending — at least, not for everybody.
Warning: this article contains Pyre spoilers.

Go to any story-driven game's forum, and you'll come across multiple threads asking the same thing: "How do I get the best ending?" Who, they ponder, should they rescue, backstab, and/or have sex with to avoid producing a demon baby possessed by the soul of an Old God? Pyre, a fantasy sports RPG where you play as a band of exiles trying to earn their freedom after being exiled to a cutthroat hell dimension called The Downside, purposefully bucks that trend.
The game theoretically has hundreds of different ending permutations due to its large cast, but no matter what, your ending will be at least a little bittersweet. Characters compete in Rites (read: fantasy NBA Jam matches) on teams of three, but only one character can go free every time there's a special Liberation Rite. In the end, there simply aren't enough of these Rites to free everybody, whether it's your party or a handful of folks from rival teams that you've taken a liking to. Pyre's creative director Greg Kasavin acknowledged that it's a change of pace compared to a lot of other games, but that's the point: he wanted to subvert players' desire to min/max, to force them to confront some uncomfortable situations and, hopefully, find a bit of good in them.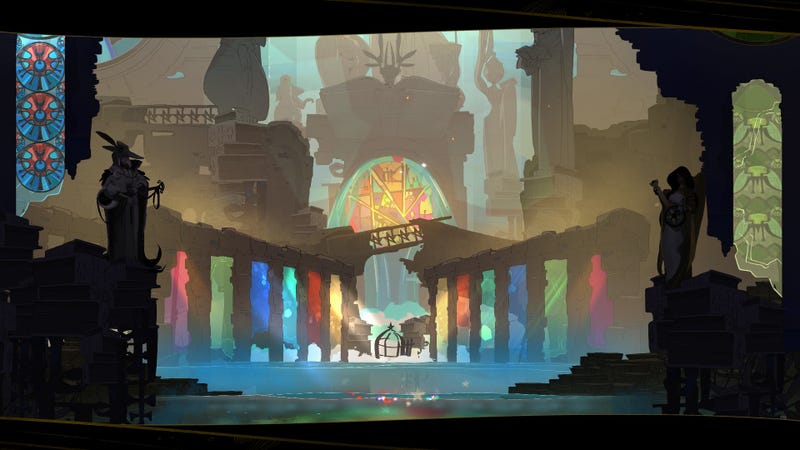 "There is no best ending in Pyre," said Kasavin during a phone interview. "We really didn't want to be dishonest with the choices that players made along the way. We could've taken the story in the direction of like, 'Oh, everyone can go free now' or something like that. But it would have felt antithetical to what the story is really trying to explore. If you're seeing things in terms of good and bad, you have to broaden your frame of reference, because in life it's rarely that cut-and-dried."
Kasavin and company were careful, however, to avoid letting their game become cut-and-dried in a different way. It would've been easy to designate The Downside as a blanket "bad" and freedom from it as an unconditional good. Similarly, they could've created a relentlessly depressing game, where characters' bad endings saw them suffer for all their mortal years in what's essentially Hell. Pyre, though, is at its strongest when it takes an initially simple dichotomy and gently, meticulously peels back its layers. Over the course of your journey, characters form relationships and have realisations about themselves. Some even find a sort of home and community in The Downside.
"For us it was this idea of this sort of journey to enlightenment, to either physical or spiritual freedom," said Kasavin. "As long as the characters reached a deeper understanding by the end of the story, it really wouldn't necessarily matter where they ended up."