You gotta feel for Nintendo's Switch dock. Everyone hates the poor (not that) little blighter. If people aren't complaining about it being overpriced, or too bulky to carry around in a bag, they're moaning that its hard, plasticky innards are scratching the Switch's lovely screen.
As a result, third-parties have already started making smaller, cheaper docks, including two recent projects that popped up on Kickstarter and Indiegogo — both looking for money to make ultra-appealing, pocket-sized variants: the $69 (£53) Switch-Con, and the $59 (£45) SFANS. The latter is advertised as an 'Oreo-size' alternative to Nintendo's official 'brick', and both docks let you plug USB 3.0 and USB Type-C devices into their svelte cases.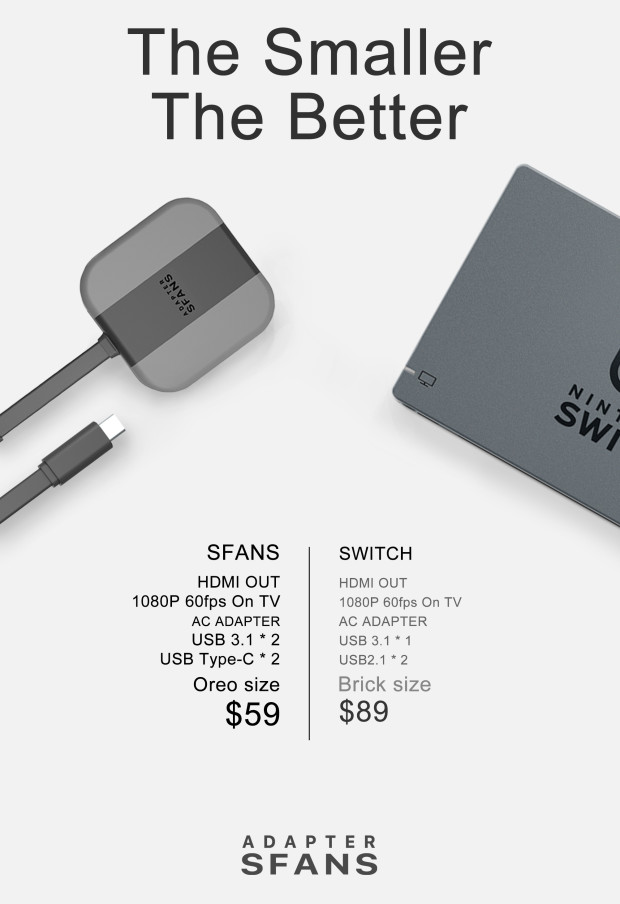 Quite the tale of the tape, no? (Image: Indiegogo)
This all seems like good news for those who hate the official dock, right? Well, it is... if you can overlook the fact both the Switch-Con and the SFANS actually appear to be nothing more than a pair of rebranded smartphone adapters.
Soon after the crowdfunding campaigns went live, certain internet sleuths noticed that both devices look awfully similar to an existing Chinese adapter, called the C-FORCE CF001 — which totally sounds like the name of a banged up, second-rate Star Wars ship. The CF001 is an unofficial gadget for the Samsung Galaxy S8 that allows users to hook their smartphone up to a desktop monitor — and which had already been noted for its ability to connect a Switch to your TV.
The Switch-Con (left) and the C-F001 (right). 
The similarities aren't just skin-deep (plastic-deep?) either. An update on the Switch-Con's Kickstarter page reveals that its creator is using the same circuit board as the C-FORCE CF001 — the saucily named LDR6023-DOCK-X6-V1. Both the Switch-Con and the CF001 devices are powered by the same components, and while no pictures of the SFANS' innards have surfaced, the fact it looks so similar to the other adapters suggest it could also be rocking the same circuitry under the hood.
The Switch-Con is totally going all Single White Female on the CF001 Samsung adapter. (Image: Chongdiantou.com)
The moral of this Switch story? If you really want a pocket-sized dock, and don't care that the Switch-Con and SFANS appear to be rebranded smartphone adapters, they both offer a cheaper, easier-to-carry alternative to Nintendo's official peripheral.
Personally, I'm happy enough with the standard dock. Breath of the Wild looks beastly on my 55-inch OLED, and when Zelda and co. look so much sharper on the tablet's lovely little screen, I'm just not fussed about plugging the hybrid handheld into my TV. Still, I guess it's good news that all you dock-lovers out there now have a few more portable options to plump for.