While cleaning out her son's room, a mother in Japan apparently came across some old cards. Her son had moved away, and she thought she was getting rid of clutter. She put the cards up for auction online, seeming to have no idea what they were worth.
On Yahoo Auctions Japan, the mother listed them as "Various Old Cards," stating that since they were old, some had scratches, folds, or were even stinky.
Mmmmmmm. Old card smell.
"But, objectively, I think they are beautiful," she stated, adding that she didn't know much about them so couldn't really answer any detailed questions.
"No claim, no return," she wrote, seeming to want to offload the old cards with bidding starting only at 1,000 yen (£7.30).
As IT Media points out, people on Twitter noticed something about this particular auction.
サラッとすごい出品を見てしまった https://t.co/VfBeu0XSuw

— めのー(瑪瑙連翹) (@OnyxGoldenbells) April 10, 2017
The batch included one of Magic the Gathering's rarest cards, the Black Lotus, leaving some to wonder if the son had give his okay or if this was all some kind of prank.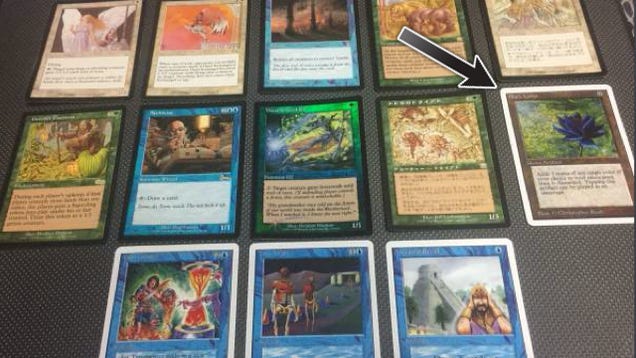 [Image: Yahoo Auctions Japan | Arrow: Kotaku]
In the auction site listing, you can see a the white border Black Lotus, meaning it's from the Unlimited Edition. It's not the insanely priced alpha deck version, which can be worth up to £24,000. The Unlimited one, however, is no no slouch and commands around £4,000.
With five days still left to go, the auction had reached 601,000 yen (£4,389) on April 11 when the mum posted an update. "I apologise to those who placed bids," she wrote on the auction page, "but I put these up without knowing they had this much value."
The mum added that her son had called and yelled at her. "With my family on the brink of collapse, I'm calling off this auction." She continued that she felt terrible for letting everyone down and causing trouble.
"Today," she added, "my son said he's coming to pick up his cards." That might be for the best.